Bus map line 15 in Barcelona
(Hospital Sant Pau-Collblanc)
THIS BUS LINE HAS BEEN ELIMINATED.
Currently, the line disappeared more similar to line 15, is the bus line H8 (Camp Nou - La Maquinista).
THE FOLLOWING INFORMATION IS NOT VALID FROM NOVEMBER 2013.
Here are all the data related to public bus line 15 in Barcelona, ​​if you want to see other lines visit our index of all bus routes in Barcelona or the index of all kinds of bus in Barcelona. This page is optimized to print the schedule, bus-stops and bus map best.

Bus stops on line 15
These are the stops that are in the route of this bus. The route goes from "Hospital Sant Pau" to "Collblanc" and vice versa.
Conca-Sant Antoni Maria Claret
Sant Antoni Maria Claret-Sant Quintí
Sant Antoni Maria Claret-Castillejos
Sant Antoni Maria Claret-Padilla
Sant Antoni Maria Claret-Sardenya
Sant Antoni Maria Claret-Roger de Flor
Pg de Sant Joan-Indústria
Pg de Sant Joan-Rosselló
Pg de Sant Joan-Av Diagonal
Pl Mossèn Jacint Verdaguer
Av Diagonal-Bruc
Av Diagonal-Roger de Llúria
Av Diagonal-Pl Joan Carles I
Av Diagonal-Tuset
Av Diagonal-Muntaner
Av Diagonal-Pl Francesc Macià
Josep Tarradellas-Pl Francesc Macià
Travessera de Les Corts-Pl Dr Ignasi Barraquer
Travessera de Les Corts-Prat d'En Rull
Travessera de les Corts-Constança
Travessera de Les Corts-Galileu
Mercat de Les Corts
Travessera de Les Corts-Mejía Lequerica
Estadi del Futbol Club Barcelona
Travessera de Les Corts-Arizala
Travessera de les Corts-Ctra de Collblanc
Collblanc-Camí de Can Roca
Cardenal Reig-Av St Ramon Nonat
Conca-Sant Antoni Maria Claret
Indústria-Independència
Indústria-Hospital Dos de Maig
Indústria-Av Gaudí
Indústria-Sardenya
Indústria-Roger de Flor
Pg de Sant Joan-Còrsega
Pg de Sant Joan-Provença
Av Diagonal-Girona
Av Diagonal-Rosselló
Av Diagonal-Pg de Gràcia
Av Diagonal-Balmes
Av Diagonal-Buenos Aires
Av Diagonal-Villarroel
Josep Tarradellas-Comte Borrell
Josep Tarradellas-Londres
Josep Tarradellas-Paris
Numància-Marquès de Sentmenat
Numància-Travessera de les Corts
Travessera de Les Corts-Vallespir
Travessera de Les Corts-Gran Via Carles III
Travessera de Les Corts-Maternitat
Comandant Benítez-Av Madrid
Av de Madrid-Portbou
Av Madrid-Arizala
Riera Blanca-Onze de Setembre
Cardenal Reig-Arístides Maillol
Cardenal Reig-Av St Ramon Nonat
Schedule of bus line 15
Schedules depend on the bus stop where you are, and change frequently. So we decided to stop publishing schedules and we recommend you visit on the official schedules of bus line 15 in Barcelona.
Map of bus line 15
Below is a map of the route of the bus line 15. To view the larger map, click on the image.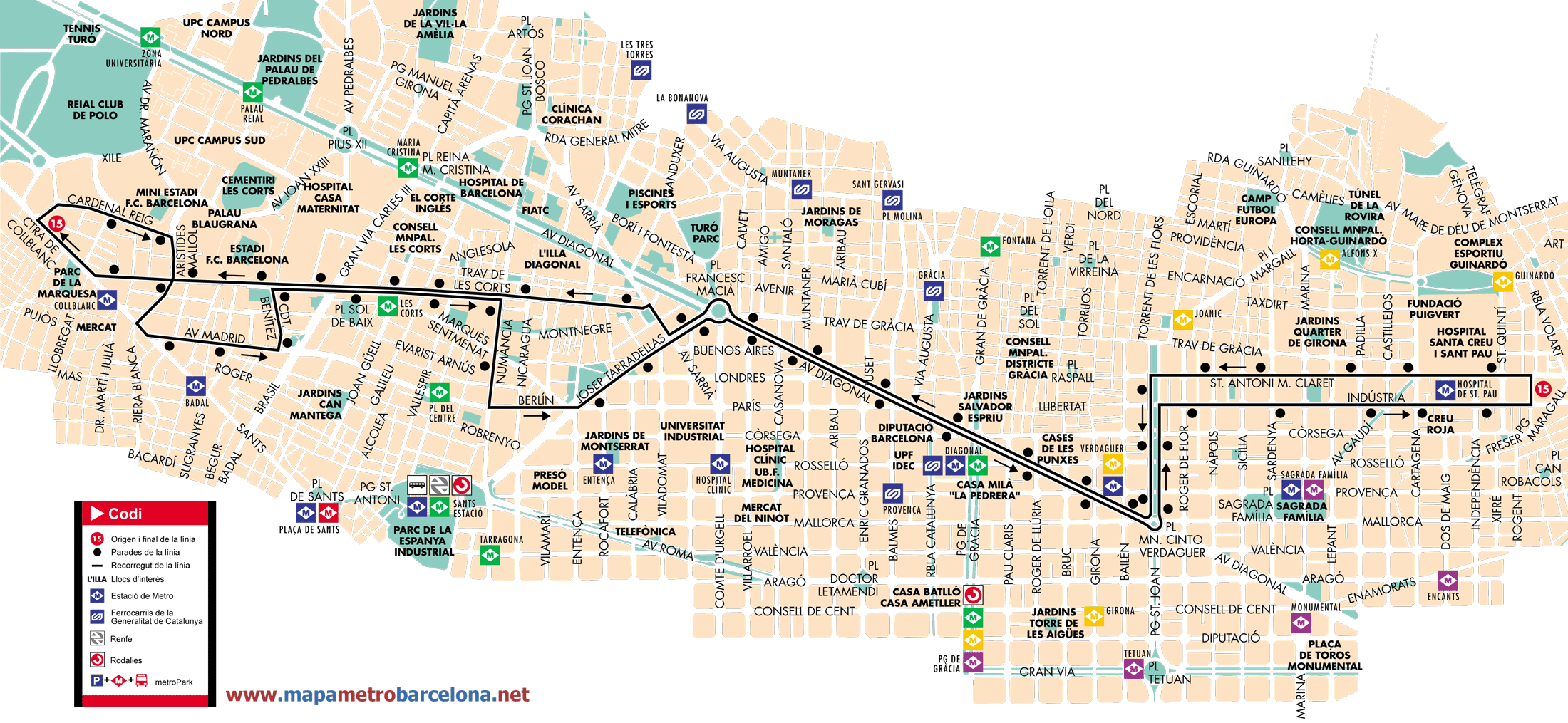 ---
Feel free to contact us regarding any fault or defect, indicating the station name and we will correct it.
Thank you very much for your visit, we hope that our Barcelona Bus Map has been useful to you.